SAHBA Community Projects

Sanford Area

Home Builders Association

(Local Chapter No. 3463)
Sanford Area Home Builders Association Scholarships
Every year, the Sanford Area Home Builders Association awards two scholarships to worthy students, one from Lee Senior High School and one from Southern Lee. The scholarships are for $500 each and are applied to their bills at their university/college. Students apply with their guidance counselor starting in March. Scholarship applications are due back to their guidance counselor by the first week of May. Our scholarship committee then makes the decision for whom receives the awards. Recipients are recognized at our June association meeting, at their respective school's awards ceremony, and in the Sanford Herald.
---
2012 SAHBA Scholarship Winners
Lee Senior High School: Jonathan Grant Layton
Scholarship recipient is Jonathan Grant Layton.
His parents are Harold and Paula Layton.
Southern Lee High School: Bryce William Love
Scholarship recipient is Bryce William Love.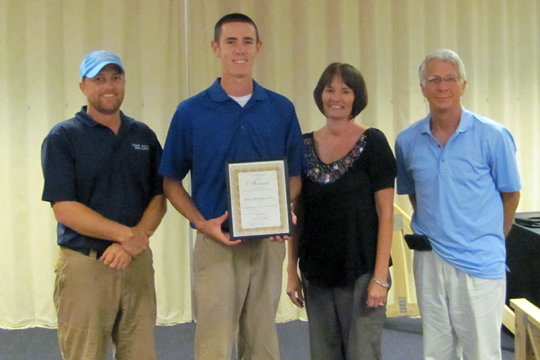 Bryce William Love receiving scholarship recognition
from SAHBA President Matthew Rhodes.
Pictured with his mother Carolyn and her husband David Almond.
---
2009 SAHBA Scholarship Winners
Lee Senior High School: Chelsey Francis
Southern Lee High School: Karey Foushee
2010 SAHBA Scholarship Winners
Lee Senior High School: Dillon Teel
Southern Lee High School: Abigail Tucker
2011 SAHBA Scholarship Winners
Lee Senior High School: Franklin Brantt Malloch
Southern Lee High School: Anna Kaitlyn Gay
---
Mailing Address:

Sanford Area HBA
Local # 3463
PO Box 1084
Sanford NC 27331-1084


Main Contact:

Nancy Remaley

Telephone:

919-770-6080

Email:
---